Nissan Ariya Concept Gives Us a Peek into the Brand's Future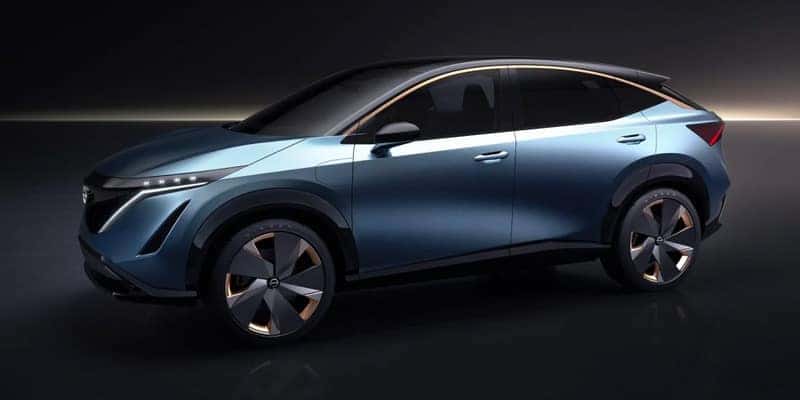 The Tokyo Motor Show is in full swing, and Nissan kicked off the show with a new concept electric vehicle, the Ariya, that the automaker claims previews a new styling and tech direction for the brand. What is Nissan up to? Continue reading to find out.
The Nissan Ariya Concept's all-new design boasts wide front fenders, razor-thin LED headlights, a front shield in place of the traditional grille with an illuminated Nissan emblem. Lest you think Nissan is abandoning the V-motion grille that has become standard for the brand, the new shield uses a subtle geometric pattern that reveals itself as an electrified V-motion signature that flows from under the headlights.
Around back, the new Ariya Concept shows off a low, sleek roofline that's highlighted by a steeply raked C-pillar that flows straight into the rear deck. The boldest part of this back end is the full-width one-piece light blade with blacked-out lenses that visually widens this sharp crossover and gives it an unmistakable nighttime signature. Rounding out the backside are fender flares and a high-mounted rear wing.
Inside, occupants are greeted by a flat floor that gives the cabin an expansive feel. This full-flat floor is thanks to the flat, spread-out layout of the Ariya's battery pack. Like so many cars today, the Ariya takes a minimalist approach to its dashboard with the only physical buttons being the start button, a single knob to operate the 12.3-inch display monitor, and the climate controls. Otherwise, the rest of the controls are all haptic touch units that light up when you start the car and fade away when you shut it down.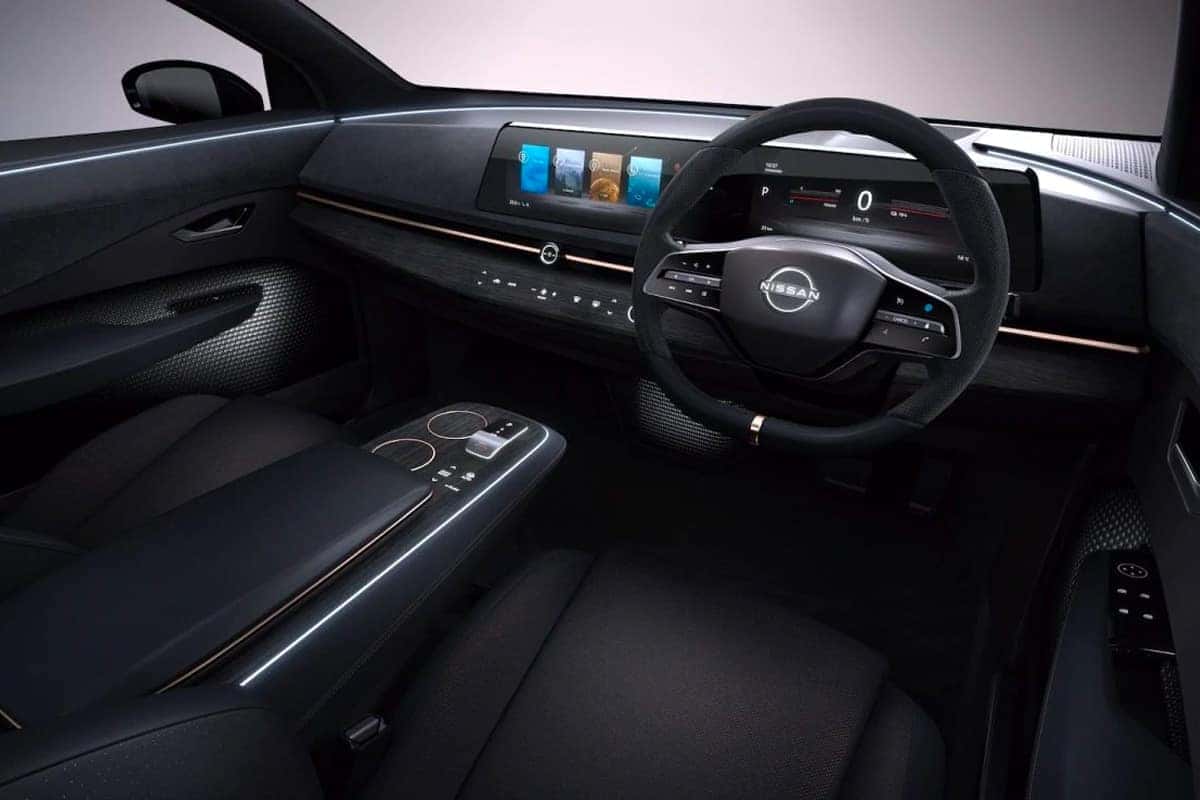 Maximizing space is key in today's world of shrinking vehicles, and the Ariya Concept handles this with super-thin-frame seats that add much-needed open space. There is also no shortage of luxury with perforated leather upholstery that includes extra material concentration occupant's lower back and hip touch for added durability and comfort.
Safety is a huge matter moving forward, as governmental regulations and customer expectations continue to get harder to meet every year. The Ariya tackles this with a new level of seamless human-machine interface connectivity and the all-new Nissan driver assistance system, ProPILOT 2.0. This updated driver-assistance system combines navigated highway driving with hands-off single-lane driving capabilities. With navigation engaged, this system will also help the driver with passing, lane diversions and lane exiting on multi-lane highways.
When the driver engages ProPILOT 2.0 and hands-off driving is available, the interior lighting changes colors to signal the driver can remove their hands from the wheel. It also creates a relaxing cabin atmosphere. If it's time to get back to steering on your own, the system prompts the put both hands on the steering wheel and confirm they are ready to handle more complex maneuvers.
While the full details on the Ariya's powertrain are not available, Nissan did reveal it will boast a high-performance, all-electric powertrain. This will be a dual-motor powertrain with one powering the front wheels and the other powering the rear. This system will deliver predictable power to all four wheels that is equal to or better than many premium sports cars.
Managing energy is a key component of successfully switching to an all-electric vehicle. While you're driving, the Nissan Ariya Concept's Smart Route Planner automatically identifies and plots charging stops along the way. This ensures you will reach your destination, no matter how far away it is.
There are no official details on the Ariya's battery capacity, but we know it uses CHAdeMO quick charging to replenish the battery quickly.
If your plans include picking up friends along the way, the Ariya offers an integrated video chat feature that connects you to our friends to confirm details before heading out. This system also links with your friends' smartphones to show their exact location. Once you arrive at your destination, you can use your smartphone or device to park the car automatically from a nearby location with ProPILOT Remote Park.
There is no word on whether the Nissan Ariya Concept will eventually inspire a production vehicle, but we could certainly see it becoming one since it is not too dramatic of a design. Well, update you with any new details Nissan announces on this concept and its push to more electrification.
Until then, we have an electric vehicle in stock and ready to go here at Nissan of Bradenton in the Nissan LEAF. Swing by our showroom serving Bradenton, St. Petersburg, Sarasota, and the surrounding area today to test drive this thrifty electric vehicle. If you can't make it in today, you can navigate to our online showroom, choose a few in-stock LEAF models that suite your needs, and schedule a test drive around your busy life.