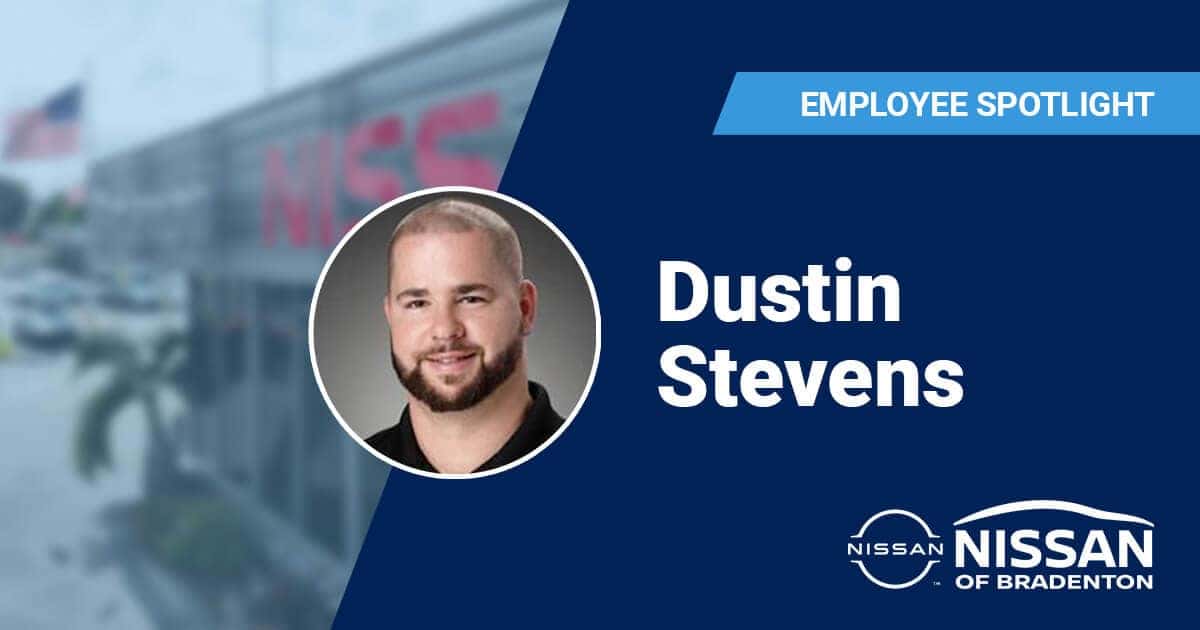 Before he crossed paths with Garber, Dustin Stevens almost left the car business. He was exhausted and drained. 
"I was really unhappy," he admitted.
But things can change for the better. One shift can make a world of difference. It did for Dustin.
"Without Garber, I would have left the dealership world," he said. "But they took over the dealership, and it was a night and day difference for me."
Nowadays, Dustin is the service advisor for the Garber-owned Nissan of Bradenton dealership in Florida. You could say his mood…his perspective…his life…has completely changed.
"I couldn't be happier," he said. "I truly mean that."
Finding the Path
In high school, Dustin knew he liked cars. He just didn't know where to go from there.
"When I was a teenager, I never had a mindset of what I wanted to do," he said. "Cars really interested me, but I didn't know what aspect I wanted to be around them."
High school graduation forced Dustin to make a decision. He took a part-time course to be a technician at a local college…but quickly realized it wasn't the right fit.
"I was a month or two in and I didn't see myself working in that job," he explained. "I wanted to do the fun, flashy stuff. I was more intrigued by making cars look cool."
In 2006, Dustin's brother became the catalyst to introduce Dustin to a role that was more in line with his interests.
"My brother was a tech at the Nissan dealership and through a conversation with him, he said, 'Hey, we have a detail position open' so I took it," Dustin said. "It was a way to get my foot in the door, and I was really fascinated by the job. I communicated with customers a lot, so I was having fun. In the years of detailing, I found my footing with communicating with customers."
In 2013, Dustin became the service advisor at Nissan. But he wasn't happy. He was burnt out. 
Then Garber came knocking. Dustin didn't know it, but his life was about to change.
Changing for the Better
Dustin was worried.
"At the time when Garber took over, I was buying a house, and you can't do a career change when you're buying a house," he said. "I was thinking, 'Oh my God, I'm going to lose my job.' I've heard horror stories of other dealerships who do buyouts and they clean house and bring in their own people. I was so freaked out, scared, worried."
But Garber surprised Dustin…in a good way.
"The very first day, Dick Garber and people from Garber Management Group and Billy Buechel the General Manager came in, so I stopped them and go, 'Hey, it's nice to meet you. This is what is going on in my life: I'm about to close on a house,'" Dustin said. "And Billy told me, 'Absolutely, you're not going anywhere. If you need help, we're here to help.' I was so assured by that statement, I thought, 'Holy cow, this is a fantastic change.'"
An unexpected morning gesture also reassured Dustin about Garber's ownership.
"When Garber first took over in 2018, we met Dick Garber, and he was a super nice guy," Dustin said. "One morning, he came through the service drive. He opened the door and said good morning to us. I looked over and said good morning back, and my heart just soared at the excitement and thinking how cool that was. I told Dick Garber how much that meant to me, and to this day, it's my favorite moment. It meant that much to me."
That morning was just the start of the positive changes that assured Dustin that he'd be able to not just feel better at his job, but actually enjoy it.
"Right from the very first employee meeting, they were very forthcoming and very transparent," Dustin said. "They told us the company values and what they stood for. That was crucial. I was coming from a place that had no values."
Dustin said Garber's leadership has inspired a monumental work culture shift for the better.
"Garber – and our General Manager, Billy Buechel — is truly phenomenal," Dustin said. "He really takes the personal approach of being a co-worker. Garber really cares about us and appreciates the customer. I can't say enough nice things about Garber.
A Balancing Act
Thanks to Garber, employees get to have a  life outside of work and customers get to have a better experience, Dustin said.
One way Garber accomplished this is implementing a schedule change. It made a world of difference. 
"With Garber, you work every third weekend and get a Friday afternoon off," Dustin said. "You come back to work Monday refreshed and ready. Now we get full weekends to enjoy time with our families. Garber truly cares about your home life. If you aren't happy at home, you aren't going to come to work in a good mood. You've got to have time to rest and recharge."
The ability to hit the refresh button helps improve the customer experience, Dustin explained.
"We have more empathy; customers come in and see happy employees," he said. "Here, we have goals, but it's more attainable because we have structure and processes and focus on ensuring the customer stays happy."
The customers aren't the only happy ones. Dustin said it's nice to be a happy team member, too.
"I don't bring hardship home," Dustin said. "I don't complain. I look forward to going in and know that there are better days than bad. The leadership here really builds you up and makes sure you are well-rested and taken care of and makes sure we are happy."
Garber's influence has changed how Dustin lives his life, both personally and professionally.
"I've changed as a person by working at Garber because of our core values: Honesty, Empathy, Respect, Work Ethic, Integrity, Pride," he said. "When you have core values like that, you really think, 'OK, how am I putting myself out there as an employee and living by these values?' Outside of work, I still live the Garber way. If I'm out and about, I do the right thing because I'm living by those values. Bringing in that structure really adds value to my life."
Fast Five

First job? A stocker at Publix grocery chain. I was 16.

First car? A 2006 Nissan Sentra. Silver.

What are three things you can't live without? Live music (Dave Matthews Band especially; he is phenomenal), good beer, laughter

What is something people would be surprised to know about you? I love live music. I go to a ton of concerts. My first concert was a Dave Matthews Band cover band at a festival.

What is the best piece of advice you've been given?  I'm not the most important thing in the world and the world doesn't revolve around me. It made me more humble about the things that I do. We are replaceable. If I don't show up, the world still moves on.