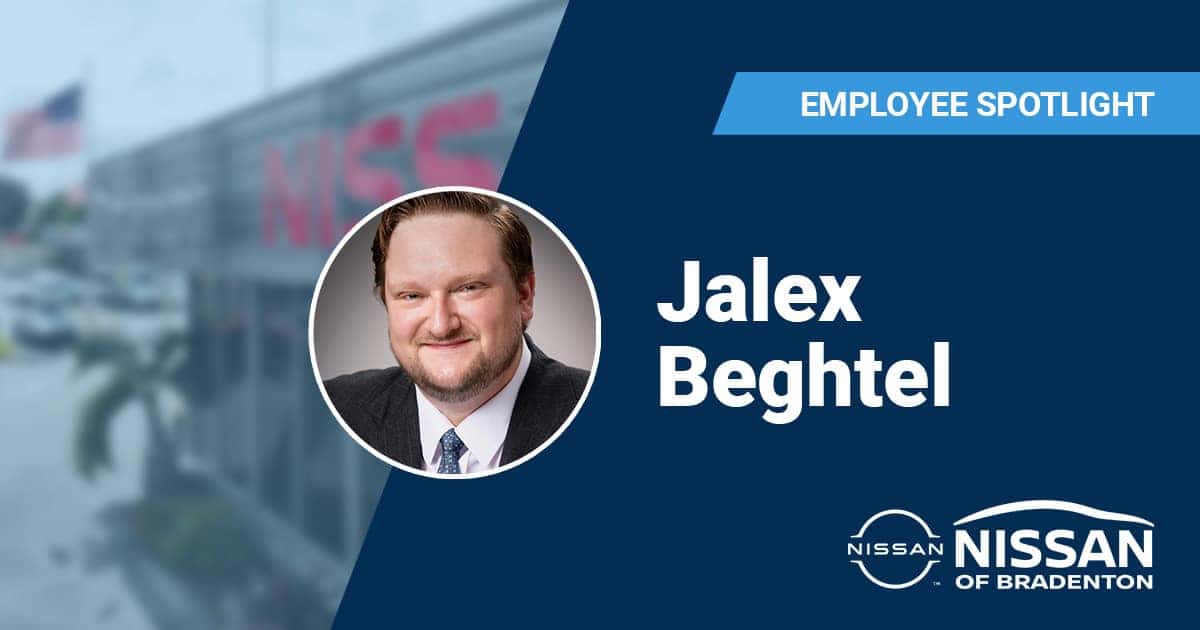 Before Jalex Beghtel started working at Garber, his perception of car salespeople was inspired by popular portrayals and common stereotypes.
Then he got hired at Garber. And the stereotype Jalex had in his head? Completely dissolved.
"I used to think car salespeople were slimy, but that's not true here at Garber," he said. "I love everyone here. We're all friends; we're all a family. It was a nice surprise: to realize my assumption about car salespeople was wrong. Now that I work at Garber, my impression has done a complete 180."
Jalex, who works as the Service Liaison at the Nissan of Bradenton dealership in Florida, said he often attends community events to represent Garber. He's been with the company for two years, and he's proud to speak about it.
"I always brag about this dealership to everyone," he said. "I make sure to bring up our values: honesty, empathy, respect, work ethic, integrity, pride. These are not things you'd always correlate with a car dealership, but it's what we live by here. I love that we have these values. All of our team members follow our values and believe in them."
Support System
Not only did Jalex's perception of car salespeople do a 180 when he got introduced to Garber, so did his original career path.
"I went to college for theater; I'm an actor," he said. "The father of Page Larson, Nissan of Brandenton's Owner Loyalty Manager, was my theater professor. When the dealership started looking for someone to fill the receptionist slot, I was recommended to Page by her father. They offered me the job in October of 2018. I said yes, and the rest is history."
After he got hired, Jalex said he could see that the culture at Garber was special.
"Everyone is super honest and open and transparent with each other," he said. "'Family' is the perfect word to describe the community here. Our management team will go out of their way to help people. You know how people will say, 'Nope, I'm not doing that; it's not my job'? That doesn't exist here. If you're struggling, people will help you. It's an ongoing community."
He said it is nice to have a team that works together and trusts each other.
"I feel supported all the time here," he said. "Support looks like the ability to make your own decisions, be trusted to make your own decisions, and have a management that backs you up in your decision."
A Different Direction
After Jalex started as the Director of First Impressions in 2018, he experienced something he had never experienced at a job before: being truly listened to.  
"After a year of me being with the company, Billy [Billy Buechel, Nissan of Bradenton's GM] took me out to lunch, and he and I specifically had a one-on-one conversation about the company and where I wanted to go with Garber," he said. "I've never had a boss do that before. I loved it because it was an open conversation, and I was able to say, 'These are the things I'm interested in.'  It felt really good to be intently listened to like that."
Jalex expressed his interest in wanting to grow with the company. In January 2020, he got his chance.
"I had made it known that I had an interest in moving up, so when they developed the Service Liaison, they approached me for it," he said.
Now as the Service Liaison, Jalex fills a lot of holes.
"I answer service calls, help set up appointments, and I'm in charge of the reconditioning process of pre-owned vehicles," he said. "Anything they ask me to do, I'll do. Every day is different, and I love that."
He said he enjoys working for Garber so much that he has readjusted his career path.
"I am no longer pursuing acting; I've shifted to playwriting," he said. "My goal is to continue with this company and do playwriting on the side."
Jalex said getting hired at Garber helped him find his way.
"Before Page called me, I was lost," he said. "I was working at an escape room and was at an in-between in my life. This company and this position have helped me narrow down my goals and realize that there are places I can go that are not theater-related and still are really good places. At Garber, I went from being lost to being found."
FAST FIVE

What was your first job? Universal Studios Orlando. I worked on the Simpsons ride. It was a blast. I started as an attendant that loads you in the car and greets you. Then I moved up to tower operator and made the ride go.

First car: A 2004 Mercedes-Benz ML350. I just had to get rid of that in August. Now I have a pre-owned 2016 Kia Soul.

What are three things you can't live without (aside from food, water, air…)?  My computer for writing, video games (they help me relax), and scary movies. My favorite scary movie is Scream.

What is something people would be surprised to know about you? That I write plays. I don't tend to advertise that, but I have been in festivals and I've had my work performed on stage. My most recent play got accepted in The Players Centre New Play Festival. They select five finalists from hundreds that get submitted and they do live readings of them. The winner of those five gets a full production the next season.

Best advice you've ever received? From who? Miss Koch, my choir teacher in high school, said "Make loud mistakes." Meaning if you're just making a soft mistake that no one can hear, you're never going to fix it. If you make a loud mistake, we can fix it and it'll be better. That stuck with me for a long time. Mistakes are the way we learn.