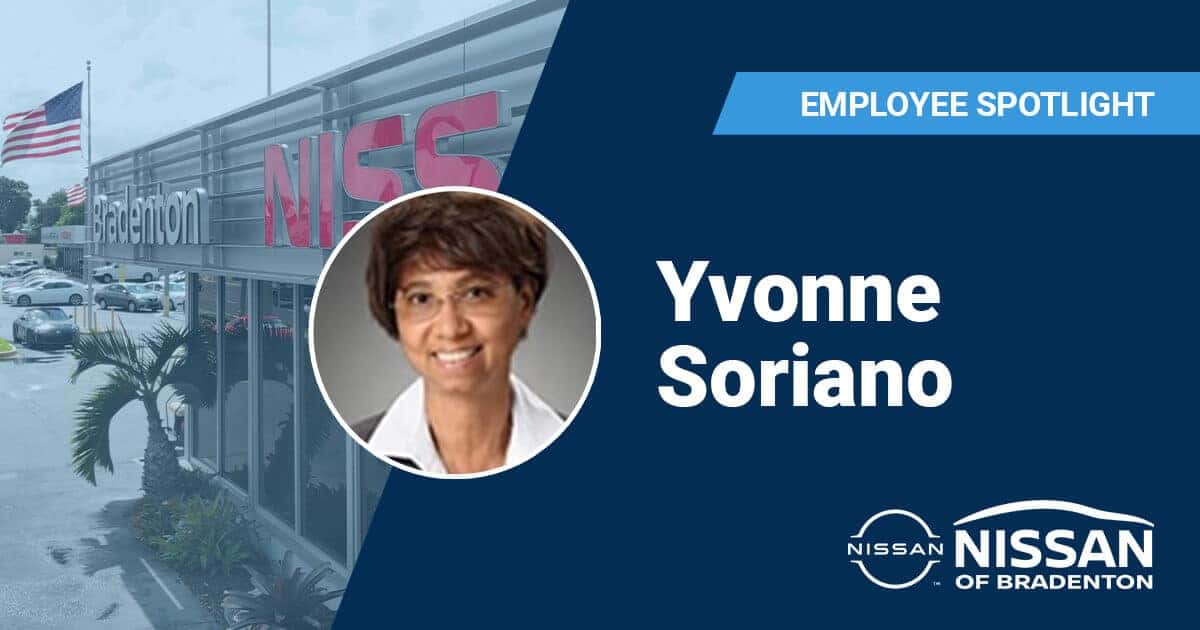 Yvonne Soriano doesn't just like cars. She loves them.
"Oh, I'm definitely a car freak," she laughed. "I've had 60 cars and I'm only 59 years old. I've had some crazy cars. I was a car freak ever since I was a kid. I never thought I would be working with cars, though."
While she's loved cars all of her life, her path took a few twists and turns before landing in the automotive industry.
She's worked at such places as a video store, the Navy Federal Credit Union, and within an IT department. But when IT laid off their employees, Yvonne reevaluated her life.
"I wanted to do something I love, and I love cars," she explained. "A friend from Sarasota got me a job as an auto advisor. For seven years, I helped people who were car shopping. I had a relationship with the dealer, the customer, and the credit union."
After working as an auto advisor, she made the jump to work in the dealership world. That's when she became a member of the Garber team. She is now a New Car Sales Associate at Garber-owned Nissan of Bradenton in Bradenton, Florida.
Yvonne wasn't sure about Garber at first. But her attitude—and her stress levels—quickly changed.
A Change of Heart
In 2018, Garber acquired the Nissan of Bradenton dealership. When Garber arrived on the scene, Yvonne was already employed as an Internet Manager. She decided to stay on board.
At first, she wasn't the biggest fan of the change in ownership.
"I was nervous about Garber taking over," she admitted. "I don't like change. I didn't want it to happen. But it didn't happen as it predicted. I was nervous. But it worked out."
Yvonne quickly noticed how Garber inspired a culture shift. Garber wasn't like the dealerships she had worked for in the past.
"When Garber took over, it was completely different," she said. "They are so caring about employees compared to others. There's no comparison, honestly. They care about us; they care about our family. Here at Garber, it's about the people more than the car."
Yvonne has worked for five dealerships prior to Garber, and she quickly got burnt out. But when she started working at Garber, she said selling cars became fun again because of the priority placed on people.
"It's fun to help first-time buyers get their first car," she said. "You don't know whose life you are going to impact. Every day, you meet someone new. It's about the relationship. I've gotten to know the families of my customers. That's what we do here. We care about the people."
Face Autism Inc.
Cars are not the only thing Yvonne loves. She is passionate about helping families with children who are diagnosed with autism.
It's a cause that is close to her heart. Her son Jordan was diagnosed with autism. Yvonne understands what other families in similar shoes often want and need as they navigate life.
"When my son Jordan turned nine, I started a nonprofit called Face Autism Inc.," she said. "It focuses on autism and hosting activities that the entire family can enjoy together. We do everything for the kids and family: skating, bowling, Easter egg hunt. We do a sensory Santa, art classes, karate class, ballroom dancing. It's such a hit. My son is really involved with ballroom dancing, and he's actually won competitions. It's turned into something I didn't expect."
Along with serving as Vice President of Face Autism Inc., Yvonne is authoring a book about Jordan and their experience together.
Her colleagues at Garber are supportive of the nonprofit and Yvonne's efforts.
"My co-workers all support Face Autism Inc.," she said. "Our GM and his whole family walked in our annual walk for Face Autism Inc. The dealership is one of the top sponsors for the walk. It means so much to me."
Beyond the nonprofit, Yvonne said her colleagues support her in numerous ways: whether it's in the everyday tasks or the difficult life events.
"My mom passed away in March and our GM came to my mom's funeral," she said. "No one does that. It was a big deal to me. The caring is unimaginable, in my opinion. He doesn't have to do that. He could have just sent flowers. But he showed up, and I will never forget that."
That caring attitude and authenticity sets Garber apart, Yvonne said.
"Here, it feels like someone has your back and understands your life even if they have a life of their own," she said. "They make sure you are OK. If you ever need something, they go out of your way to make sure you are taken care of."
No Comparison
When it comes to her day-to-day work, Yvonne said she's a better sales associate thanks to Garber.
"I'm a nicer salesperson because I don't have the stress around me here at Garber," she said. "You can be so stressed out at other dealerships but here, it's not stressful. I can sell and relax."
She said the family atmosphere is genuine.
"Every day I come to work, I feel they actually care about the work that I do," she said. "Other dealerships that I worked for, you were just a number and you could be replaced. It was cutthroat.  Not here. It's like a family here. When one person's hurt, everyone cares. You are company driven, not dealership driven."
As a new employee, Yvonne said you don't have to be worried about being ignored or feeling clueless.
"You get good training here," she said. "When people start here, you don't just start and no one talks to you. Here, they expect you to stay. They expect you to be trained. They expect you to get to know everyone. That is usually not a dealership life. Here, it's not brutal. We take turns. The culture is different here at Garber. It's better than I could have ever imagined."
Fast Five

First job? I was a recreation counselor for the city of Sarasota. It was fun. I was 15.

First car? A Toyota Corolla. I had $700 and I hated that car, but it was all I could afford.

Three things you can't live without? Church, family, being around people

Something people would be surprised to know about you?  I run a nonprofit and wrote a book and I'm a blackbelt. I studied martial arts and I was the top junior fighter when I was 16 in the state of Florida. I'm getting my son involved now. I'd like to pass my black belt down to him.

Best piece of advice you've received? My mom said, "Treat people with kindness and love." Everyone matters. Everyone's life is important and you have to have compassion for people.