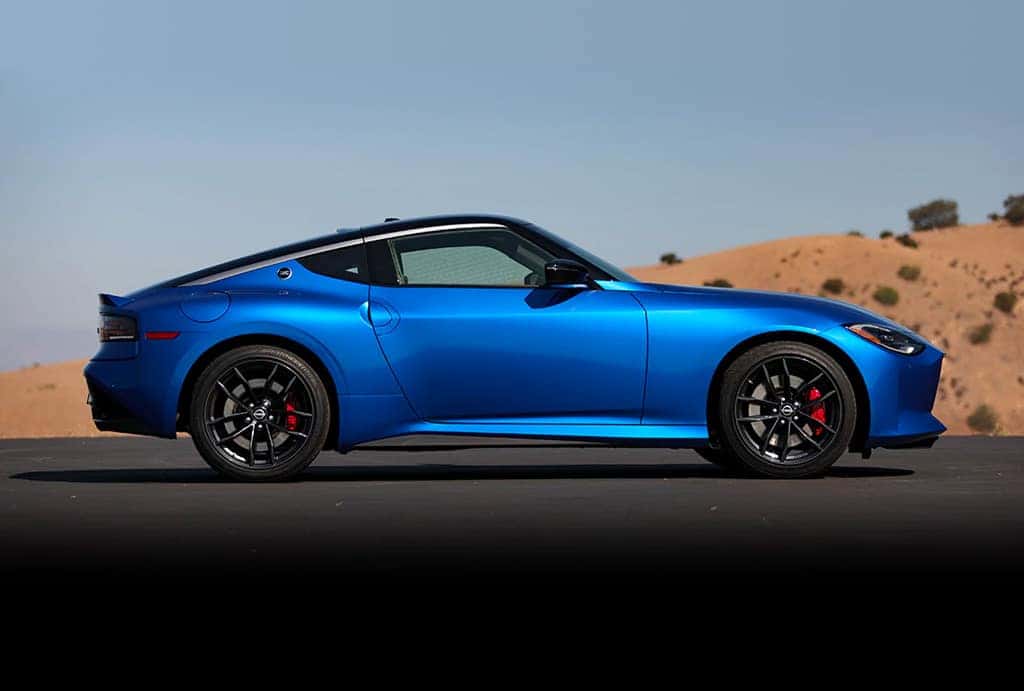 Built to perform. Built to cruise. However you plan to drive it, say hello to the all-new 2023 Nissan Z. 
That's right, the long awaited icon from Nissan finally makes its debut. And while it won't be available until 2022, we're still stoked to get full production model details. 
Z Pays Homage
To all the Zs before it, but this new 2023 Nissan Z does play favorites. It takes heavy design cues from the original Z from 1969 — the Datsun 240Z. 
That is very evident in the classic Z teardrop headlights.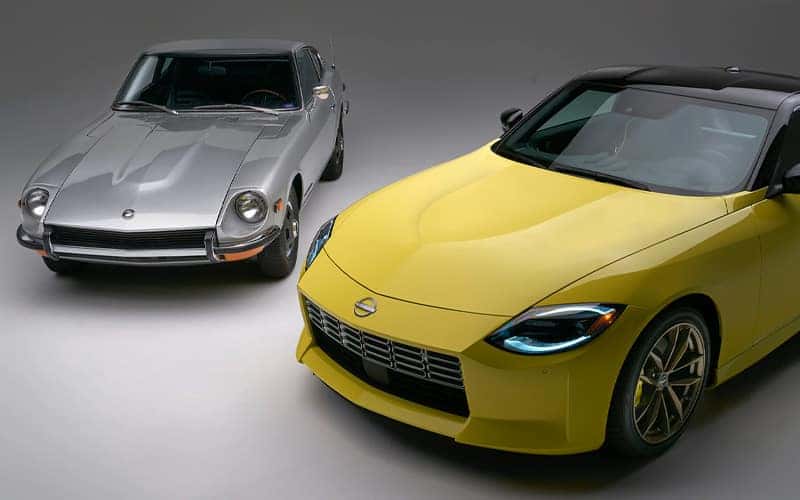 While the shape of its two-tone gunmetal grille is reminiscent of the 300ZX's rectangular taillight design, the 2023 Nissan Z just doesn't look to the past. It looks to the latest Nissan GTR for its sculpted corners for a wide stance and improved aerodynamics.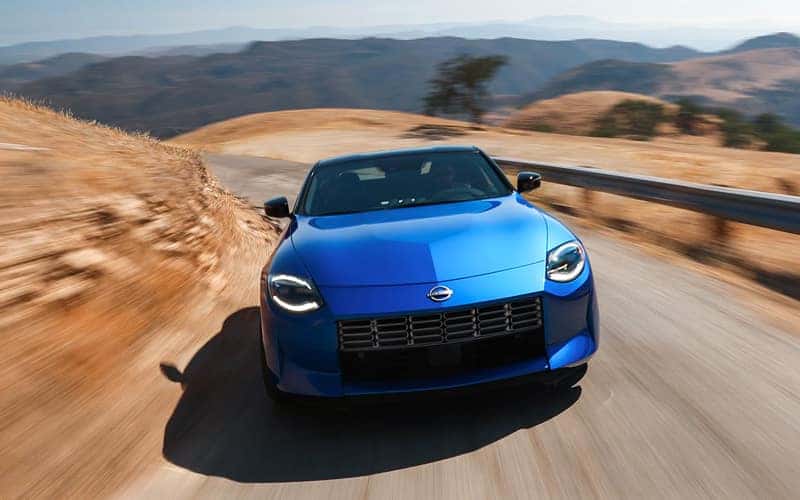 Sculpted corners aren't the only thing working to better the Z's performance. An integrated front splitter helps scoop air into the radiator while serving as a design element in the front fascia with another nod to the 300ZX's of the 1990s. 
Working round the side, the new Nissan Z has an incredible profile. Its overall balance comes together in perfect harmony with its slight design elements like flush body-color door handles, sculpted fenders, and an intense sloping headline. 
While the Z's overall shape and intricacies like the iconic Z badge and rectangular taillights point to the past, the folks at Nissan aren't afraid to bring in new-aged design philosophy like two-tone color schemes that are a first-time offering on any Z model ever.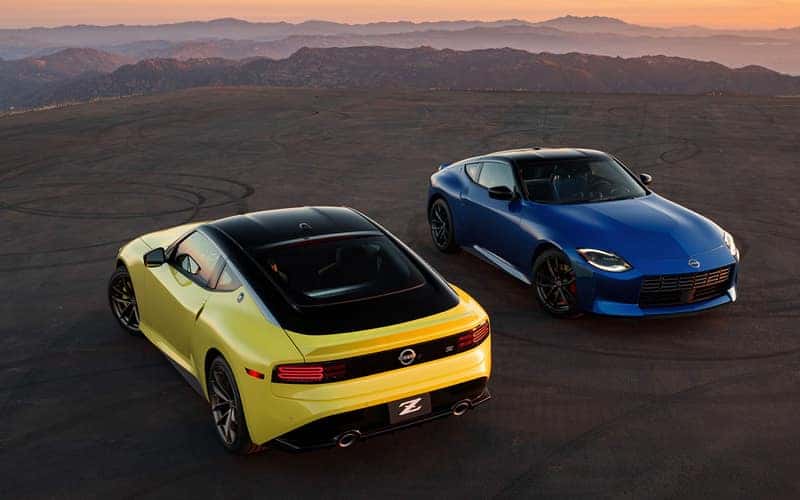 A Look Inside
That same harmony of past and future makes its way inside the new Z by pairing an optional 9-inch touchscreen with design elements like rectangular air vents that match the grille and taillights.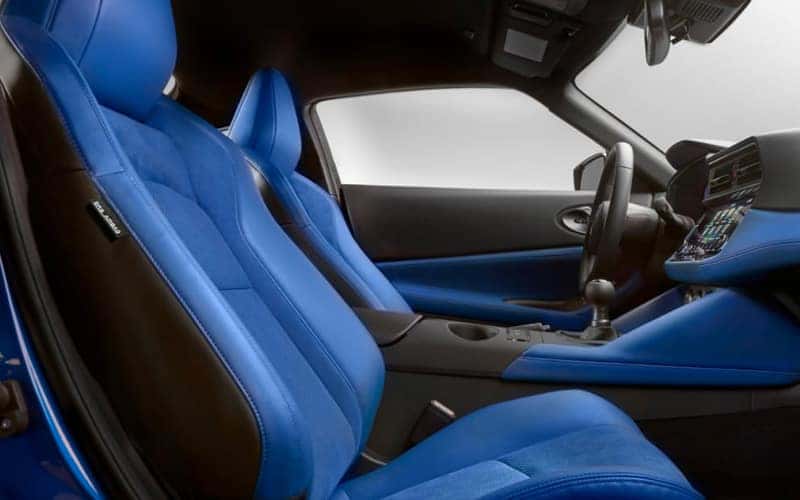 And it doesn't just look good. Its driver-centric cockpit puts fun at the helm, again, with appreciation for the Z's before it with three traditional dial gauges.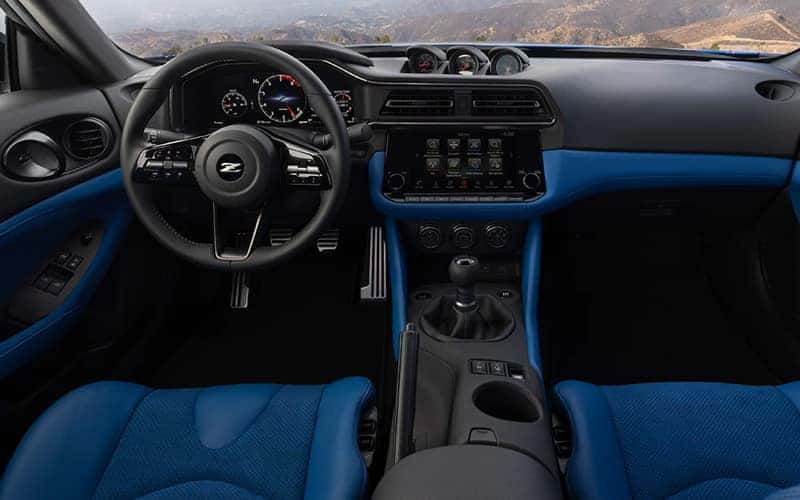 While you're reminded of over 50 years of heritage, you're immediately jolted to today with the Z's standard 12.3-inch digital gauge cluster that's customizable for a wide array of tech.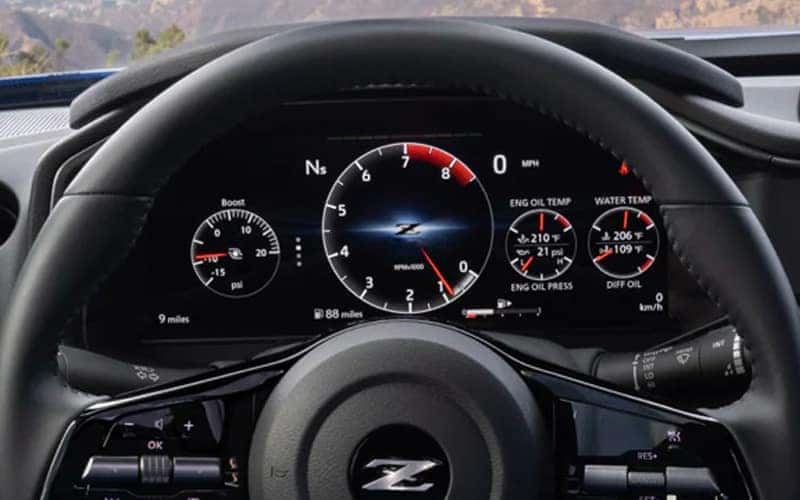 Mechanical Prodigy
We can't talk about the Nissan Z and not mention its flat out fun performance. 
A performance that's powered by the familiar 3.0-liter V-6 engine. This twin turbo is good for 400 horsepower and 350 pound-feet of torque.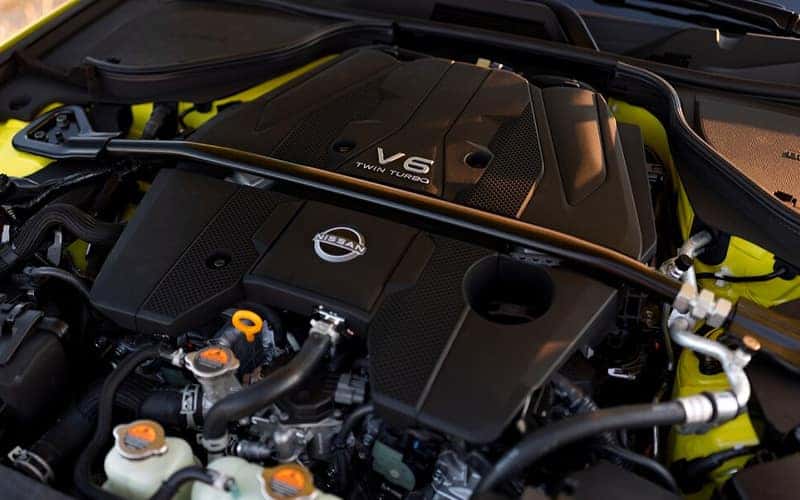 And it's all controlled with a standard six-speed manual for that true connection to the engine and the road. The manual Z configuration gets a unique carbon fiber driveshaft for improved power transfer and has available SynchroRev Match® tech for polished downshifting. 
However, you can opt for an automatic transmission. Not just any automatic either. For the first time in a Nissan Z, a nine-speed automatic is on the table with paddle shifters to keep you engaged through the gears. 
Smooth Sailing
Whether you're taking the 2023 Z out for groceries, hitting your favorite winding road, or spending the weekend at the track, you can bet on a smooth ride and quality handling no matter what.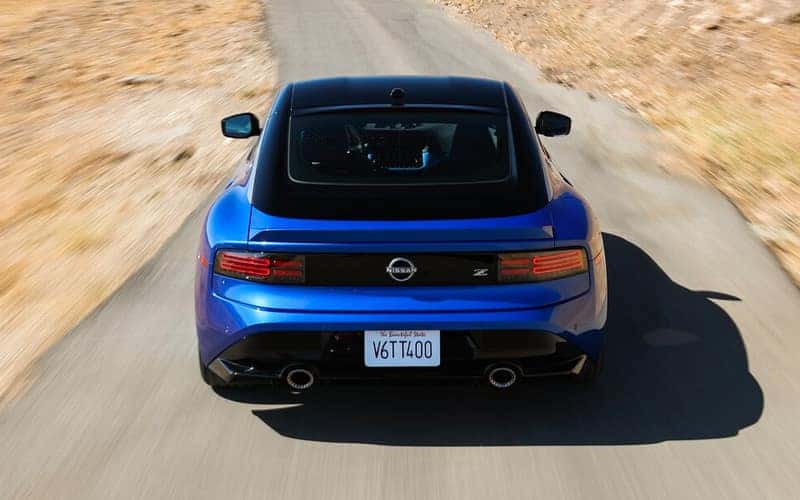 That's thanks to the double-wishbone aluminum suspension up front and the rear multi-link suspension in the rear. Both reconfigured to respond seamlessly to the all-new electric power steering system. 
Plus monotube shock-absorbing dampers get a size increase to help the new Z glide over road imperfections as if they weren't there. 
Generations of Z

Nissan has been breaking molds and setting standards since 1969 and continues to do so today with the 2023 Nissan Z. You have to toe a fine line to create a vehicle that emits both a futuristic soul and acknowledges its rich history. Nissan does just that with the latest 2023 Z. 
Get yours pre-ordered for 2022 and make sure to like our Facebook page for more on our Nissan lineup and all things Nissan of Bradenton!
Sources: