COVID-19 Update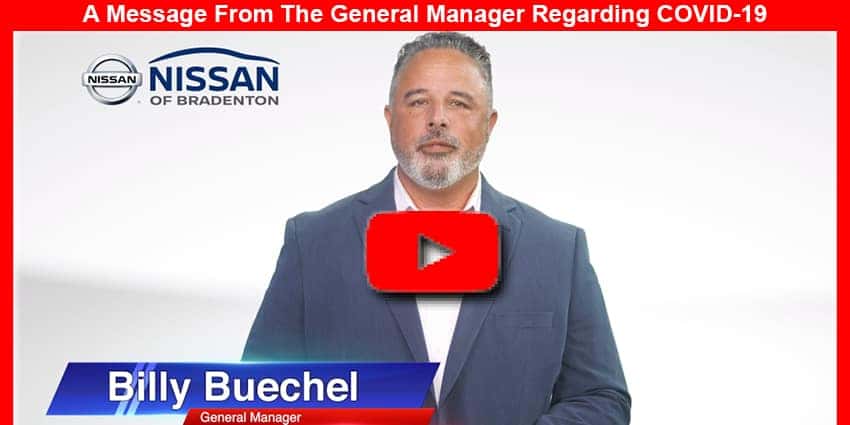 A Note from the General Manager
I'm Billy Buechel, General Manager at Nissan of Bradenton.  I know right now is a difficult time for you and your family. The way business is conducted will be done differently for a while and communication to customers is more important now than ever. I feel it is crucial to re-assure our customers that we are doing everything possible for the safety of our community. The measures we are taking to ensure the safety of our guests and employees are extensive:
First we are making sure to follow good preventative practices in our interactions with our guests. As you would expect, we have eliminated handshakes and any other physical greeting.
 
Second, we are taking extra steps to sanitize our service department, showrooms, waiting areas, and all vehicles that are on our property.
 
Every employee in our service department takes maximum preventative measures while working on your vehicle including wearing gloves at all points of interaction.  
 
Every vehicle that comes in for service has the opportunity to be treated with a state of the art FDA approved chemical that will fog your vehicle and kills bacteria, mold and viruses, including the corona virus that is affecting our community so gravely at this time. 
 
This machine puts a disinfectant fog in your car and has been proven effective against bacteria, mold, and viruses, including the Corona virus.  It only takes 3 minutes to apply and 10 minutes to dry.  It is odorless and leaves no residue.  
 
Should you want to bring your vehicle in for service you can schedule an appointment online, by phone or by email.  If you like to work on your own vehicle, no worries, you can pre-pay for parts over the phone and we will deliver them to you.

Also we are offering expanded pick-up and delivery options to better assist any customers who are uncomfortable coming to the dealership.  This enhanced courtesy will be provided for both our sales and service departments. 
 
If you would like to explore purchasing a new or pre-owned vehicle, our website is a great place to start.  Now, you can:
Get vehicle pricing online, by phone or by email.
Apply for credit online 
or we can take an application over the phone.
Get your trade appraised by emailing pictures, a video or by describing it over the phone.
When you decide to purchase a vehicle from us we can deliver that vehicle and all the paperwork right to your home or office.   
         
And as always, if you need help or would like to be guided through the process we are always available by phone.
 
As we navigate these unprecedented times, the safety of our community; both customers and employees is paramount.  If you have any questions, feel free to contact us at 941 755 1571
Join the Conversation
Comments
comments