Nissan Certified Pre-Owned
Benefits Include:
7-Year/100,000-Mile

Limited Powertrain Warranty

7-Year/100,000-Mile

Roadside Assistance Coverage

167-Point Inspection

Genuine Nissan Service & Parts
Plus More...
View Certified Vehicles
Get Approved
Need help financing the car you've always wanted? We can help! We work with multiple lenders and will help get you the best loan possible.
Apply Now
Our Reviews
My battery unexpectedly went dead, and I didn't realize what was going on. All I new was that I kept getting an error message about parking and my car wouldn't shift out of park once it was jumped off. I called nissan twice to get their service department and a lady answered the second time. She walked me through EVERYTHING, and let me know that it definitely sounded like my battery. Thankfully my car is still under warranty. So my Nissan rep walked me through my next steps (getting it towed immediately and dispatching an Uber for work the next day). The service dept called me the next morning with my diagnosis and I didn't have to pay anything for the battery replacement due to my warranty. It was a huge burden off! I went ahead and had them do some routine maintenance while they had my car and I've had no problems since I've gotten her back! (2021 Rogue)
We are very excited with our recent purchase of a 2022 Nissan LEAF SV from Nissan of Bradenton! Our sales associate, Yvonne Soriano was extremely helpful throughout the entire process from beginning to end. She gladly answered all of my questions about the vehicle and was not pushy at all during the negotiation process. When we arrived to pick up the vehicle, she had the entire car charged, cleaned, and ready to go for us. I would say it was easily our best experience ever purchasing a vehicle from a dealership. Just want to say a BIG thank you to Yvonne and the rest of the staff at Nissan of Bradenton who assisted us with our purchase. Drew
A very pleasant experience from start to finish. The customer service was fantastic. Professionalism from the salesperson Thomas Wells and the entire staff! Highly recommend and I will be back in the future. Jeff Palmer
I wrote a bad review yesterday out of a bad day I was having and for that I apologize, it's highly unlikely of me to do that so I want to come back in here and say that Dustin reached out to me and apologized himself after the miscommunication. I truly appreciate that he was able to get me in early morning to have my tire replaced on a Saturday; He did an amazing job as always and very knowledgeable of what he is doing. Thank you again Dustin !
Extremely customer service oriented.
Syann is the best car sales associate I have ever dealt with. I was searching for a Car on Facebook Marketplace and finally found one. I messaged her through FB messenger and she answered me. I explained to her I had my car stolen and the insurance agency totaled it out and I had three days to find another car. Oh and plus I had covid and couldn't come to the dealership. Syann went the extra mile and made sure everything was done quickly but fairly. I had never purchased a car from a dealership and was a little nervous and wanted my mom involved. Syann jad no problem talking to my mom and answering all her questions. She even made sure to bring me another rental car until my car is ready. It is because of Syann I will for sure be a repeat customer of Nissan of Bradenton. Thank.you Syann
Syann is by far the best car sales associate I have ever dealt with. I was searching for a Nissan Leaf on Facebook Marketplace and finally found one. I messaged her through FB messenger at 915 pm and she answered and called me that same night. Syann went the extra mile in all aspects of the sale for me. Nissan should be lucky to have an employee with not only her talent but also her drive, passion and commitment to her customers. It is because of Syann I will for sure be a repeat customer of Nissan of Bradenton.
I had such an amazing experience everybody was nice. Mr. Carroll was awesome and helped and was great with my kids. Troy did an awesome job as well he was amazing.
Thomas at the Used Car Sales department is awesome! he worked to get myself and my son into a vehicle that fit not only my budget but my needs! I am absolutely in love with my Nissan Rogue! I cannot say thank you enough to Thomas and Troy for working so hard to get me into a car for the best price. I'm a single mom to a toddler (who helped me shop at the dealership) and all of the staff were so patient and understanding while working with me while I dealt with a toddler and that's something I cannot say thank you to enough. I cannot recommend this dealership enough, thank you Thomas!
Syann, Was a wonderful,helpful, and knowledgeable sales person. We had a great experience!
What a wonderful salesperson!
Great Dealership, Customer service is unmatched. Just overall great experience at Nissan of Bradenton. Thomas and the the rest of the Sales team were amazing and helpful.
My husband and I stopped in looking for a car Syann came out and was a amazing she helped us get exactly what we wanted. We left very happy and comfortable!!! She's definitely the person to talk to!!!
GREAT YVONE WAS GREAT FRIENDLY AND KNOWLEDGEABLE SHE TALKED ME INTO BUYING AFIVE STAR EXPERIENCE.
Syann did a fantastic job of helping us with finding a car. she is amazing and wonderful and is incredibly knowledgeable and resourceful!
Drove over 2+ hours to get a car from Syann because we met her a long time ago and she did a fantastic job of helping us find a car and went above and beyond to make things work for us. She is absolutely wonderful and made the whole experience a breeze. Absolutely recommend to anyone who is looking for a car! And she needs a raise.
My experience was awesome. All the guys on Sunday 5/29/22, was great. And Troy worked so hard to get us a great deal!!! Tom was so nice and helpful, answered all our questions. Also can't leave out the nicest receptionist, Margie Russo.Would whole heartly recommend Nissan of Bradenton. They really care!!!
Thank you Tom and Troy for all you did to get me in my new! I love it! You guys are the best!! I will recommend you to all my friends!!
Josh went out of his way to get me into the truck. He is a up coming sales person which will go a long way. He listen and does not push hard. Everyone there was great to deal with and enjoyed them. Ed is a great manger and saved me money also. I'm so glad I went with your company. Gumbo for them soon and thank you all.
Keith is phenomenal, very helpful!
What a great experience and what nice people! They walked me through the whole process and made buying a car easy, and with much less stress than I anticipated. Best of all I love my car.
Not the best time to buy a car but sometimes you have no choice! Yvonne was a pleasure to work with. She understood what I was looking for and was straightforward and honest about price and availability. Buying a car is stressful but Yvonne made the process go smoothly!
Great place . Great staff . Thomas and Josh were friendly and accommodating. Thank you for my new Altima !
Hands down the best car experience I've ever had . Syann the carsale women was amazing really took what I wanted for a life long car for me and my son under consideration and worked very hard and diligently to get me in my car today ..thank you so much syann your the best 😁
Syann was my sales women she's a great person I will recommend anyone to get a car from her awesome she made things happen thanks again!!!
Welcome to


Nissan of Bradenton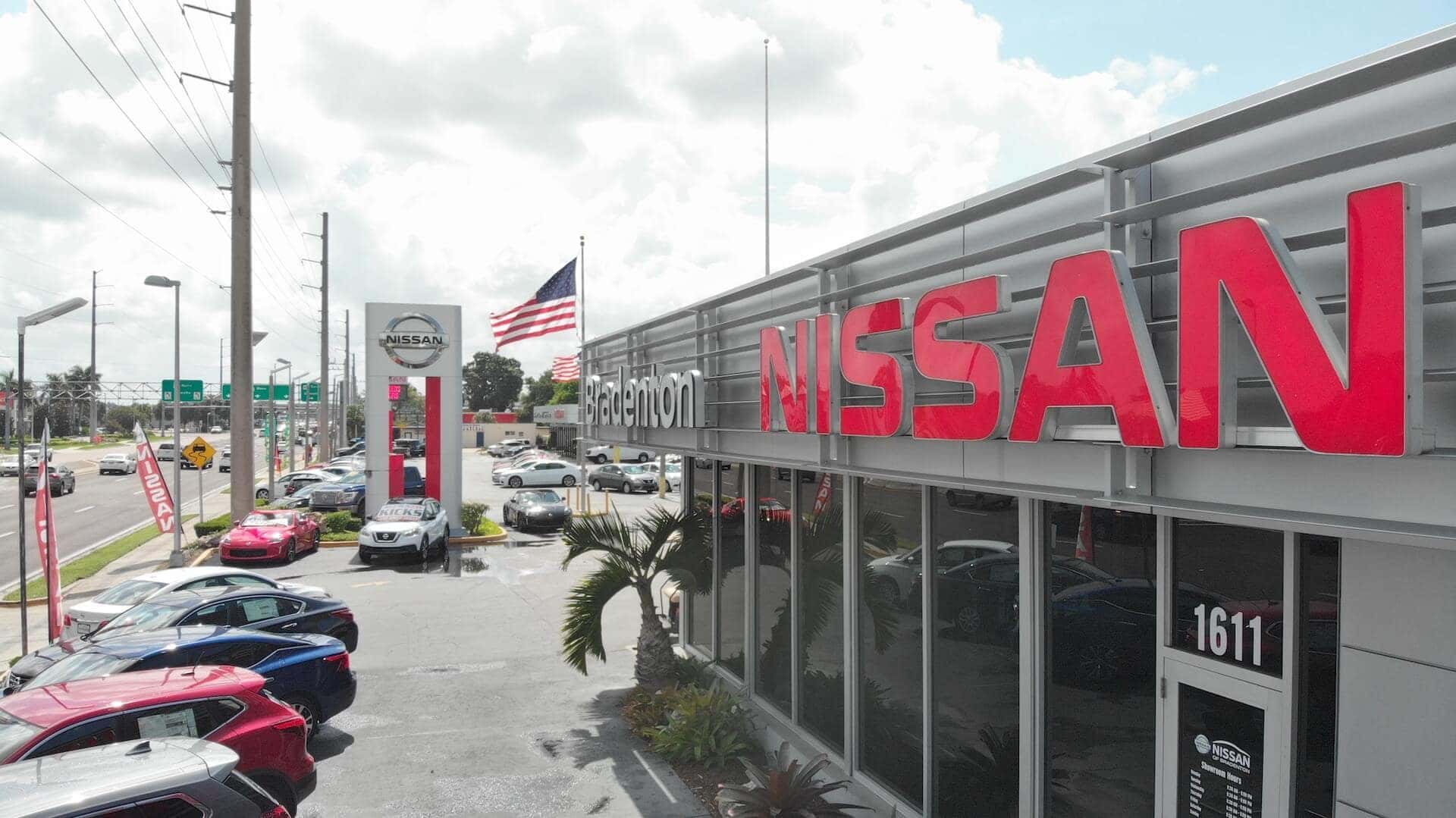 Proudly serving the Tampa Bay area for over 65 years, Nissan of Bradenton has joined Garber Automotive Group to further our legacy of meeting our customer's needs with quality vehicles and exceptional service. With every customer, new and old, we strive to ensure we're closely following our company mission statement: "We're only doing our jobs when we create an experience for the customer for which they choose to return and do business with us again."
Our friendly and knowledgeable sales team are eager to help you find the new Nissan vehicle you've been waiting for from our extensive inventory. Once you've chosen your dream sedan, SUV, or truck, our team will work diligently to ensure you're getting the best deal possible, by applying every new car offer currently available. Prefer to lease your new Nissan rather than buy? No problem; we'll work just as hard to ensure you have the best lease offer possible.
Get Directions

1611 Cortez Rd W, Bradenton, FL 34207