About Nissan of Bradenton -
 A Bradenton Area New & Used Nissan Dealership
Welcome to Nissan of Bradenton!  We treat the needs of each individual customer with paramount concern. We are Bradenton's Premier Nissan dealer, located at 1611 Cortez Road West, across from the Lowe's & Best Buy Plaza. Nissan of Bradenton has been a proud part of Bradenton's history for over 65 years.
Our goal is to provide you with all the information you need to find just the right new Nissan or pre-owned car in Bradenton for you.  Take a look around and you will see the specials we have running, exclusive internet pricing and discounts available for services you may need. You can schedule a test drive, your next service appointment or order that factory part/accessory you need.
We are proud of our reputation and want our customers to feel welcome, respected, knowledgeable and confident while making their purchase and service selections.   We bring the family touch to the overwhelming world of automotive choices.  We are committed to being caring, trustworthy and ethical.  
Thank you and we look forward to meeting you!
 We have been making a difference in Manatee and Sarasota Counties for over 62 years because we CARE. The Owners and Employees have a common desire to help our community where ever we can. With donations to local groups, schools, and organizations.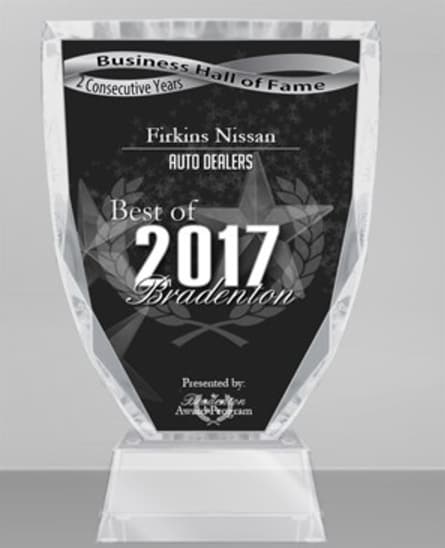 Nissan of Bradenton Wins "2017 Best of Award"
Qualifies for Bradenton Business Hall of Fame
At Nissan of Bradenton, we have once again been honored with The Best of Bradenton Award in the Auto Dealers category. This 2017 award is particularly satisfying because it puts us in an elite group of area companies who have won the award for two consecutive years. This distinction now qualifies Nissan of Bradenton for the 2017 Bradenton Business Hall of Fame. Nissan of Bradenton also received The Best of Bradenton Award for Auto Dealers in 2016.
For over 65 years, Nissan of Bradenton has been a part of Bradenton's business community representingNissan and other automotive brands. We've built our reputation by treating the individual needs of our customers with paramount concern. Our owners and employees are dedicated to making a difference in Manatee and Sarasota Counties. The Best of Bradenton Award helps to serve as validation of our efforts in providing superior customer service and in helping the communities of which we serve.
The Bradenton Award Program is an annual program that honors the achievements and accomplishments of local businesses. It identifies companies that the program believes have achieved exceptional marketing success in their local community and in their business category. According to the Bradenton Award Program "These are local businesses that enhance the positive image of small business through service to their customers and to the Bradenton community." 
We are pleased to continue to contribute in making the Bradenton area a great place to live, work, and play.